About Alan Whitton: Hypnotist & NLP Coach
I'm a Hypnotherapist living in Woodford Green, Essex. I work with lots of different kinds of people to help them get them the changes they want. I am solution focused in my approach and draw from Hypnosis, IEMT, NLP and Behavioural Therapy whilst working with clients.
I'm not about 'Tea and Sympathy'. You've probably already tried that and, it almost certainly didn't work. I am compassionate and focused on you getting what you want.
I will often interrupt lengthy stories I'm told, for a couple of reasons: to either check my understanding, or because hearing that story isn't going to help me to help you to feel better.
Sessions are often fun, but they're not always. It depends on the way the session goes and what the nature of the problem is.
I also host short trainings for therapists with internationally acclaimed trainers that have made significant developments in the field of Brief Therapy or Hypnosis that include Barry Thain, Andrew T. Austin and Nick Kemp.
I am martial artist of two and a half decades, and have trained alongside many World Champions. In my youth I represented England for Karate and took Silver in the British Karate Championships. In my early twenties I took up the sport of Thai Boxing and won both British Kickboxing and English Thai Boxing Heavyweight titles. For the past five years I've been training in Brazilian Jiu-Jitsu, and hold a Purple belt in it (the Martial Art that spawned the UFC Ultimate Fighting Championships). I still compete occasionally in the old duffer category, taking 2 medals in both competitions last year.
I have worked on a voluntary basis for the great charity Victim Support, London's homeless as well as saintly Tanzanian Missionaries http://lightinafrica.org caring for Aids orphans, Street children and the destitute. Please donate to them if you can.
Getting here
I'm a ten minute drive from J26 of the M25, a 5 minute drive from the A406 and a 5 minute walk from Woodford Tube Station on the Central line (you catch an Epping Debden or Loughton train).
Here's a map of where I practice Hypnotherapy in Woodford Green, Essex: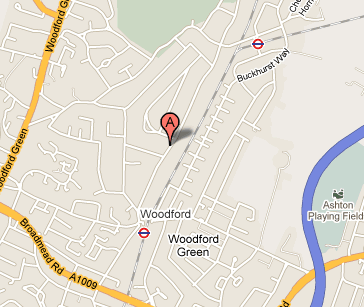 Certifications & Affiliations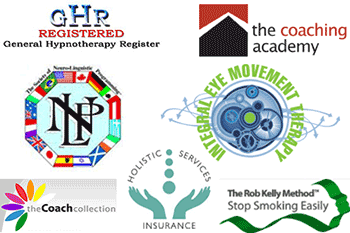 ✔ Registered Hypnotherapist with the General Hypnotherapy Register (Reg. GHR)
✔ Associate member of The Association for Provocative Therapy
✔ Certified Practitioner in Neuro-Linguistic Programming – NLP (included Ericksonian Hypnosis) through the Society of NLP (SNLP)
✔ Certified Trainer & Practitioner of Integral Eye Movement Therapy (IEMT) Through Andrew T. Austin (Trainer & Creator)
✔ Certificate in Personal Coaching from The Coaching Academy
✔ Founding Member of The Coach Collection
Social Networking sites