Testimonials for Hypnosis and Hypnotherapy in Essex and London
This client gives her testimonial after working with me for a case of severe Public Speaking Fear & Anxiety. I saw this client for three sessions. I used a combination of IEMT (Integral Eye Movement Therapy), Provocative Therapy, NLP (Neuro-Linguistic Programming) and Hypnosis. This is her opinion of the work.
This Client, a business woman, had a bad habit all her life. I used a combination of Hypnosis, and Behavioural Changework to allow her to get rid of this problem
When I first went to see Alan I was experiencing a great deal of stress on every level. I had 3 sessions with Alan followed by another this year. I returned to Alan because I trust him and the care he gives. I have made a great deal of progress in dealing with stress/anxiety and continue to do so. I feel he has given me the resources I needed in order to manage anxiety. There are not enough words of thanks. My quality of life has returned.
Oh p.s.- lost a stone in weight at gym and diet, that's what the therapy has done for me

T.L. London, June 2011
July 2011 Hypnotherapy for Flying Phobia – click below to see full size – name cut for anonymity.
I am honestly opening up again. I have no paranoia about people because I know I see the stuff coming before it even happens. I repel vampires now! But I do it all with a huge smile on my face. Smiles and happiness are the best weapons you can have. It says, don't mess with me louder than moodiness ever could. It says I am smiling and I am happy. I love it, it is empowering to be able to be happy and still feel strong. I just love this learning path. It always has a thousand surprises along the way.
You must love your work too. There are endless possibilities with the work that you do.
M.S. London June 2011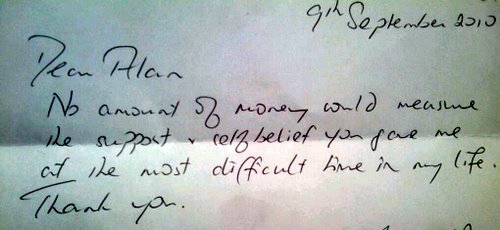 Dear Alan, No amount of money would measure the support and self belief you gave me at the most difficult time in life. Thank you. RL, Sussex
I had been having an issue which was affecting my personal and social life plus my work life too. The problem had got to a point where it was always on my mind and having a negative effect on me as a person. I had managed to find ways to cope with the issue and make do, however life is not about just coping it is about living it to the full and I wanted the problem to go away so I could get back to normal. That is when i contacted Alan and with hindsight wished I had done it so much sooner. Within a couple of sessions and talks with Alan I had regained my confidence and taken control of the problem. He went through strategies and techniques to help me tackle the issue and I have never looked back. I feel like my old self again and I cannot thank Alan enough for all his help and guidance. PT. London Feb 2011
"Since being coached by Alan on the Psychological side of my Elite Athlete Training, I have never felt stronger and more confident when stepping in the ring! He made my transition from Amateur to Professional a Simple one, so now when I step in the ring with the best fighters in the World I know I belong there! I look forward to working with Alan in the future and believe 1000% that together we can achieve my dreams and goals in Thai Boxing!"
Chris Knowles: English, British, European & (AM)World Champion
"I like Al Whitton. He's a big guy with a big heart and I highly recommend him as a therapist who is continuously striving to provide excellence and the highest standard of care in his therapeutic work."
Author of The Rainbow Machine, Therapist, Trainer
"I have been involved in personal development for over 30 years and have therefore seen a lot of different types of people. The very best teachers and therapists have a combination of technical skills as well as being highly personable when working with others"
In my view Al Whitton has both these qualities as well as a genuine duty of care towards his clients.
Creator of Provocative Change Works™, Founder of Association for Provocative Therapy (AFPT)
Before I started work with Alan, I was a little skeptical to say the least. I was suffering with anxiety attacks that were really starting to affect my every day life, I was ready to give anything a shot in order to feel normal again. I spoke to my local doctor who put me on a course of anti-depressants, needless to say with not the best affects on my body, nor did it cure the attacks. Within one sitting with Alan I felt a whole lot better and left with a new, fresh and more productive mindset. After three sittings the anxiety attacks were well under control and I am now anxiety free!! I would recommend anyone suffering with any anxiety or mental health issues to give Alan a try. It really has worked out for me and since the work we done together I feel a whole lot better!!
A. Green – Buckhurst Hill
"I had one session with Al and I am still amazed and in awe of how he has changed my life. I filled my life with so much stress and worry and within just one session I managed to totally change my perspective on everything. I am now a calmer and more balanced person and finally someone I am happy to wake up every morning and be. Working with Alan has been the best decision I have ever made."
DK – Hitchin
"I feel peaceful now, after so much confusion and angst, the change and speed it happened, amazing! What I wanted was clarity, understanding, strength, freedom, to name a few, working with Alan has done this.
If I was told I would be feeling like I am now, a few months ago, I would have said impossible, in fact there were numerous times I said to Alan 'I can't do that' then shortly after found myself doing just that, easily and confidently. Some of the exercises were rather 'out there' they did feel weird at first, but they worked.
Alan has done and much more actually, (than) what I thought I would get from psychiatrists being in hospital for 6 weeks, but never, they changed nothing just prescribed drugs. The work I have done with Alan has sorted my head out beyond belief, its been a number of years since things went wrong but I am so grateful I met Alan now!
I feel like I'm healing from the past and it feels absolutely fantastic. Oh yeah and I'm a non-smoker now too.
Thank you Alan for your generosity with your time, energy, thoughts, humour, (your tricks), and your wisdom."
MW – Loughton
"My session with Alan was certainly an eye-opener, in that it made me stop to think, 'Oh, there is more to me and my life'. He really did open the doors to my perception than I had previously thought.' It was as if I had to hear it from a neutral person, and Alan, I'm pleased to say, was that person.
My session with Alan was incredibly meaningful and was realistic to my needs. What I learnt from it meant a lot to me and my family, and that is thanks to Alan. I found my rapport with Alan was inspiring. I trusted everything he said. I felt comfortable in his presence, which is a very important factor, I personally think. Alan also makes an excellent guide – he takes you in the right direction with ease and skill. To sum up, it was definitely a valuable experience for me."
PS – South Oxhey
"I went to see Al for a session about a specific issue that was holding me back, depressing me and generally making me inert. In just one session he enabled me to remove the obstacle that was blocking me and my life has changed dramatically. In fact, I don't have enough hours in the day to do everything! Al is a supreme coach and I highly recommend working with him."
MP – West London
"I wanted to wait for a while before I wrote my feedback because I wanted to see how the work we did during the session would affect my world in the long term. I have to say that I am amazed to say the least. The metaphors that developed out of the hypnosis have proved to be thoroughly empowering. What is more the changes have taken root and sprouted and when I meet difficulties, it is as if a new branch sprouts, a new fresh green leaf, or a new chapter of this beautiful adventure which is my life. Thank you so much for whatever it is you did! It's beautiful, wonderful and full of wonder! Thank you!"
NM – London
"The positive behavioural changes in me were and continue to be dramatic. Having very little self belief and being at a point where I felt trapped and held back by my way of being, both personally and with my career, I was desperate to change this and wanted to move forward. From the first session with Alan I was able to identify in myself the areas that I wanted to change and Alan gave me hope His technique of getting to the heart of the matter, with with his refreshing and challenging approach. fun, tact, and expert techniques served as a compass for me, keeping my direction steady and raising my confidence. His relaxed style immediately puts you at ease and enabled me to quickly forget all that is going on around and concentrate fully on what was important. There is a determined edge to Alan's coaching that always seeks to get to the root of the issue and once there offers a technique for getting quickly to a positive result. I would highly recommend Alan as a coach to anyone looking to enhance or change their way of being. The way Alan works delivers effective results and an enhanced way of being – FAST."
JB – London
"Alan Whitton's energetic style, fun personality and thought provoking techniques have worked together to help me make amazing changes in my life, and see things from a new perspective. I wholeheartedly recommend his work to anyone who is ready to make some positive changes!" CA – Ohio
"It's like you switched a switch inside and I decided to see things from a different point of view. And it started a ball rolling I couldn't and didn't want to stop. It was like a breath of fresh air to turn my thinking on its head" ER – London
"After spending time with you I had my best sales month ever in the worst time ever! It has completely changed my outlook and I have truly put things in their right perspective, giving me enhanced focus. My boss called me into the office to quiz me on what was going on – and has since mentioned that I am a completely different person! He also said "I want what you now have because nothing seems to faze you anymore". I am so much more positive in the job now! Thank you!
HD – St Albans
"Alan's powerful methods are truly amazing. I'm already seeing great results from just one, single goal-setting session with him and really feel that with Alan's help I really am on the way to achieving everything I want to. His style is easy and warm and he's given me some tremendous exercises which, when practised, seem to make my goals much more real – and reachable. I whole-heartedly recommend Alan if you want to apply some simple techniques to reach your own goals."
PP – Watford